(1/6) The Department of URP organized an online seminar entitled "International Lecture Series: Community Climate Change Resilience". This seminar is the third series of the Urban and Regional Scientific Forum (USRF) which was previously held on 5 May. USRF is a discussion forum held by the Department of URP to improve the academic atmosphere at the international level especially those related to regional and urban issues
At this event, the Department of URP invited Assistant Professor from the Department of Humanities and Social Sciences, IIT Kharagpur, Jenia Mukherjee, Ph.D, as the invited lecturer. In addition, Dr. Ir. Artiningsih, M.Si was also assigned as the speaker from the Department of URP Undip. While Mada Sophianingrum, S.T, M.T, M.Sc was chosen as the moderator in this discussion.
Community resilience in facing climate change was chosen as the main topic because it is related to the Sustainable Development Goals (SDGs), in which the Department of URP Undip is one of the institutions that consistently supports the implementation of these goals. In this discussion, Ms. Jenia presented a topic about community empowerment in Sundarban which is located in the transboundary area of India and Bangladesh. While Bu Artiningsih presented a topic on adaptation done by the community in the coastal areas of Central Java.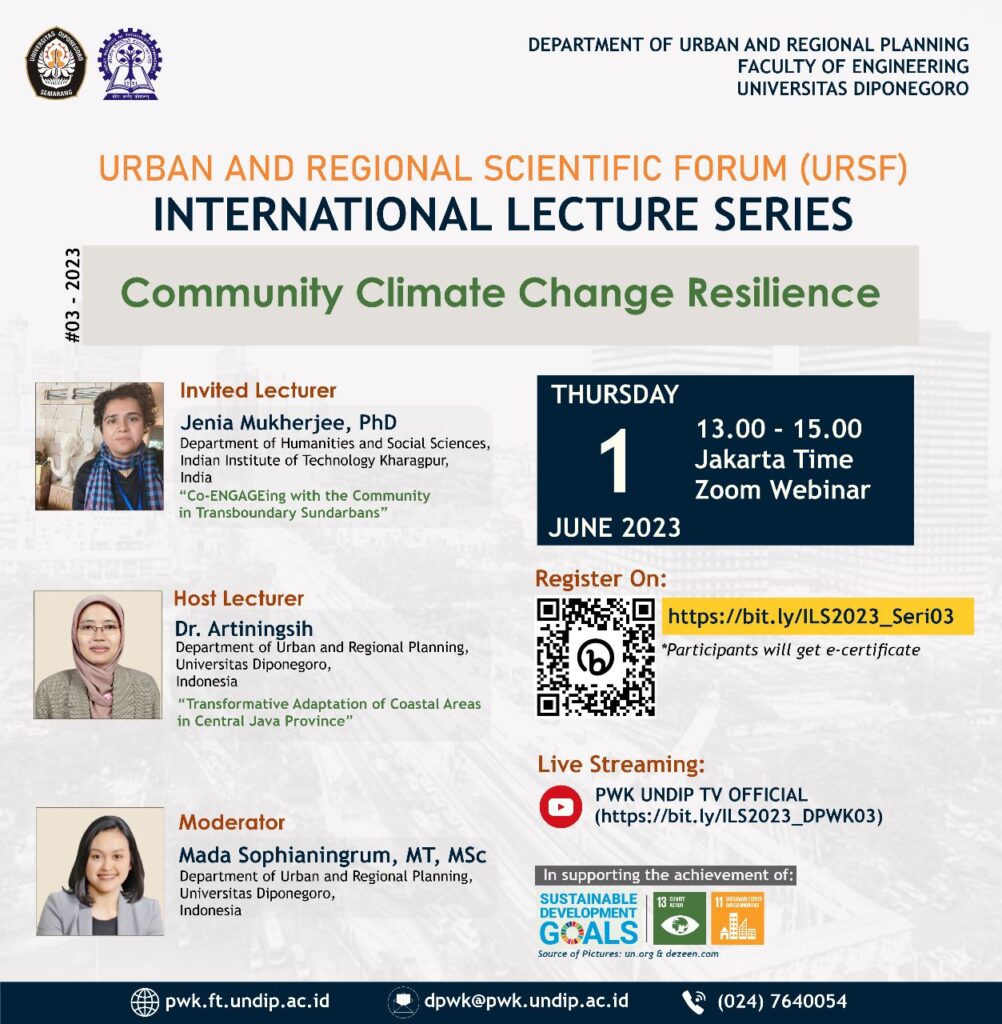 Jenia Mukherjee, Ph.D, as one of the speakers, expressed her gratitude for the existence of this forum. For her, this event is important as a forum to share knowledge and ideas related to urban issues such as resilience efforts in facing the climate change. "I would like to give thank for the offer that the University (Undip) had given to me. Thank you for organizing this event," she said.
Prof. Dr-Ing. Wiwandari Handayani, S.T, M.T, MPS, the Head of the Department of URP, also thanked the organizers for holding this discussion. She hoped that after this online seminar, there will be some interesting researches emerges that related to the subject discussed in this event. "I would like to express my gratitude to Ms Jenia and the organizers for organizing this event well. And I am looking forward for some interesting researches related to this subject after this event," said Prof. Wiwandari.