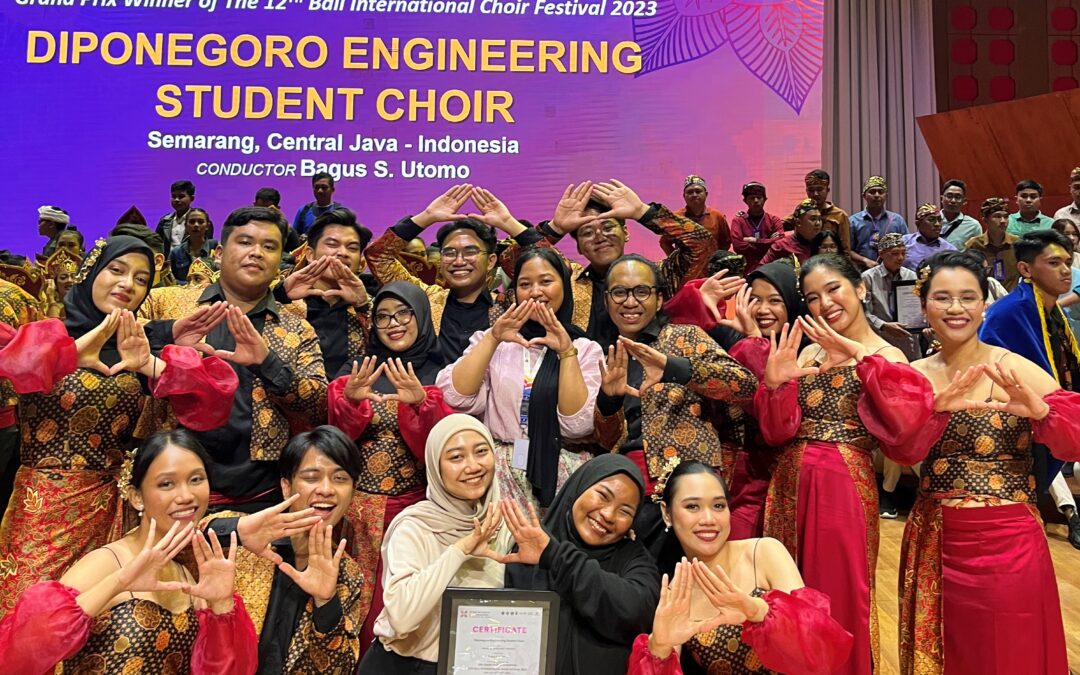 (29/7) Aksa Swara Indonesia Team from the Diponegoro Engineering Student Choir (PSMT) Undip successfully achieved satisfactory results in an international choir competition entitled the 12th Bali International Choir Festival. In the competition which was held from 24 July 2023 to 27 July 2023, the Aksa Swara Indonesia team won 4th Place in the Musica Sacra category, Champion in Mixed Youth category, and the Grand Prix Champion.
Previously, PSMT Undip won the Grand Prix at the 18th Busan Choral Festival & Competition in 2022. This year, PSMT Undip through Aksa Swara Indonesia managed to secure the Grand Prix Champion position at the competition which was held in Bali. Elizabeth Putri Kendi, Vice Head of Aksa Swara Indonesia said that she and the team were quite surprised to be able to win the Grand Prix Champion again this year. She was grateful that their preparation was successful. "Actually, we were surprised and did not expect (to win). The preparation we did before was quite a lot. We have been preparing earlier this year to get there. And thank God the result is similar to our target," she said.
 Gabriel Andre Frezso, the Head of Coaching Division of PSMT Undip said that he and the entire Aksa Swara Indonesia team were grateful to win this competition. He hoped that with this victory, they would be able to get more support so that they could train and compete better, such as support related to the space for training. "In my opinion, the challenge we face is related to the training 'space'. Honestly, our training place is sometimes not proper. We hope that later we can be facilitated regarding this matter," said Gabriel.
The 12th Bali International Choir Festival itself is an international choir competition initiated by the Bandung Choral Society and funded by BNN RI. This competition was attended by thousands of choir teams both from Indonesia and from several countries such as Spain, Italy, Malaysia, the Philippines, South Korea, Thailand, Sri Lanka, Taiwan, China, and Germany. In this competition, the team that won the Grand Prix Champion will get the opportunity to compete at the 3rd Asia Choral Grand Prix that is planned to be held in 2024. Haris Geovani, as the Head of Aksa Swara Indonesia hoped that the success of the Aksa Swara Indonesia team this year can be continued by the next generation next year. "Hopefully, the knowledge gained from Aksa Swara Indonesia does not stop this year but can be transferred in the next year. And keep loving this team like you love this team this year in the next year. Please transfer this champion mentality in the next year," he said.
The news generated from PSMT Undip